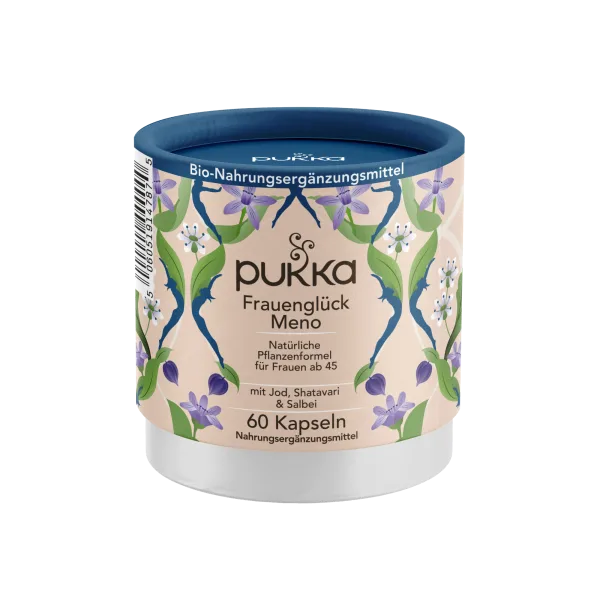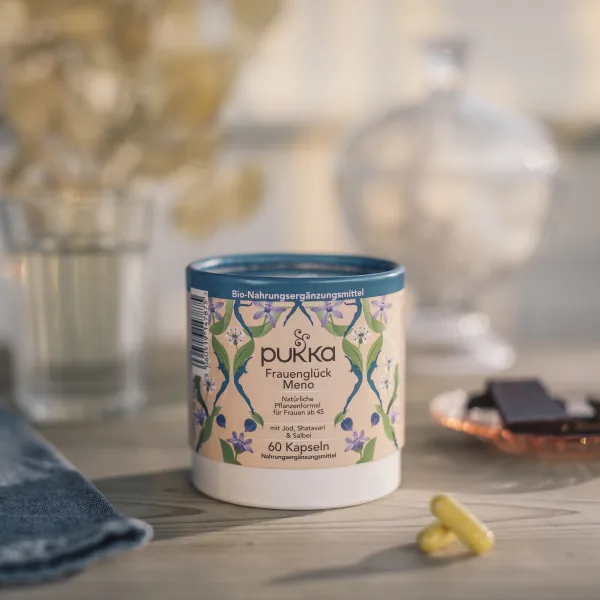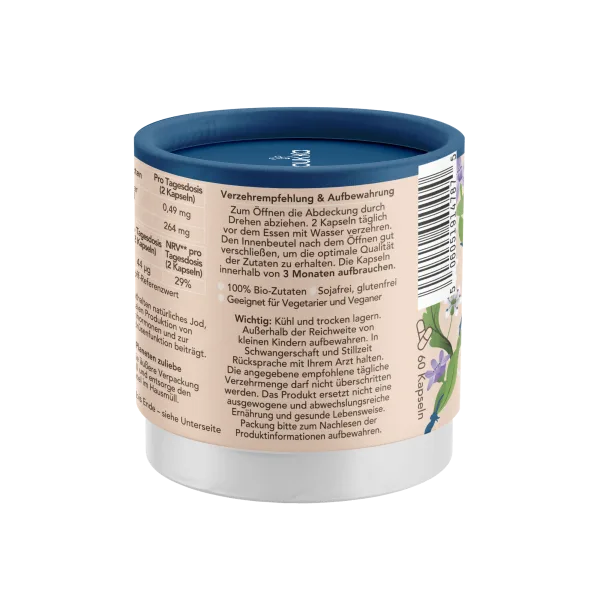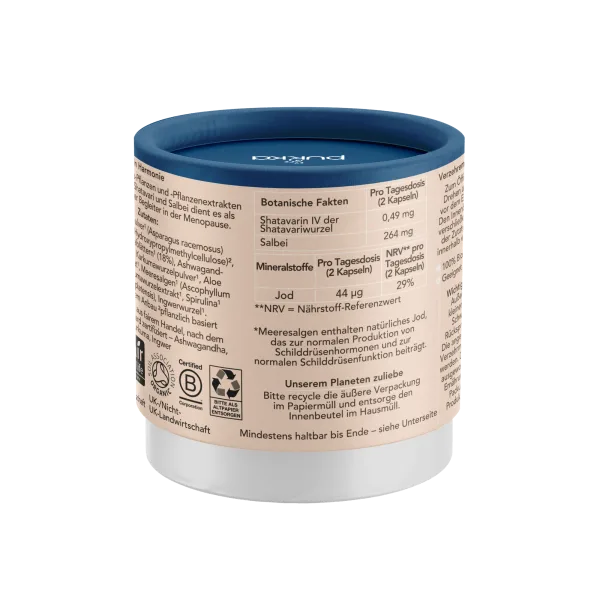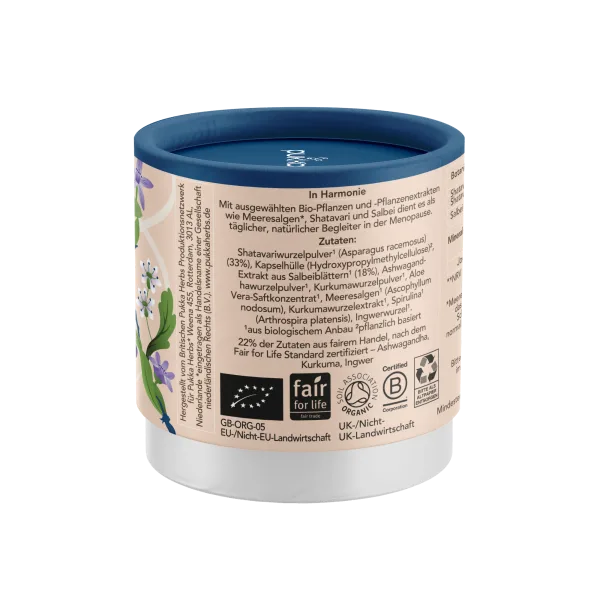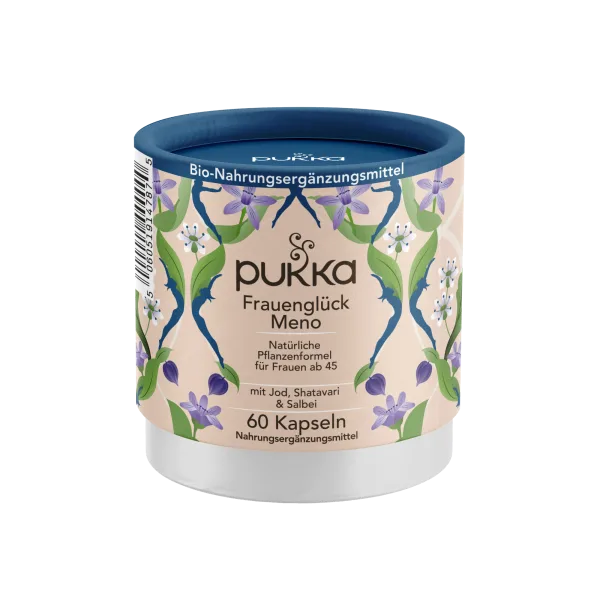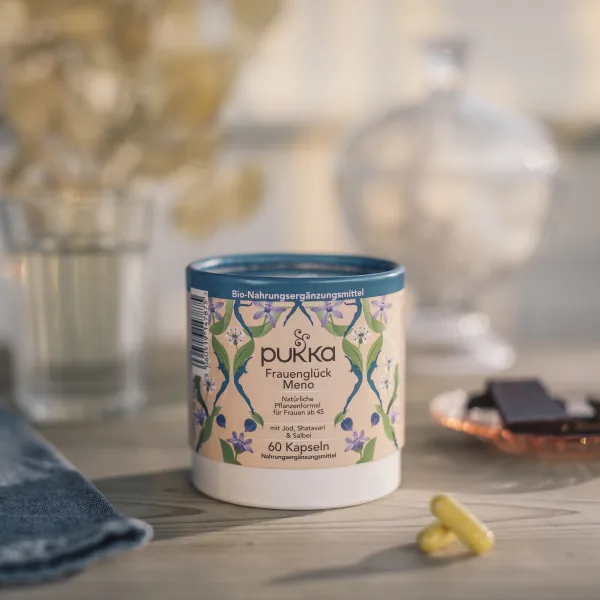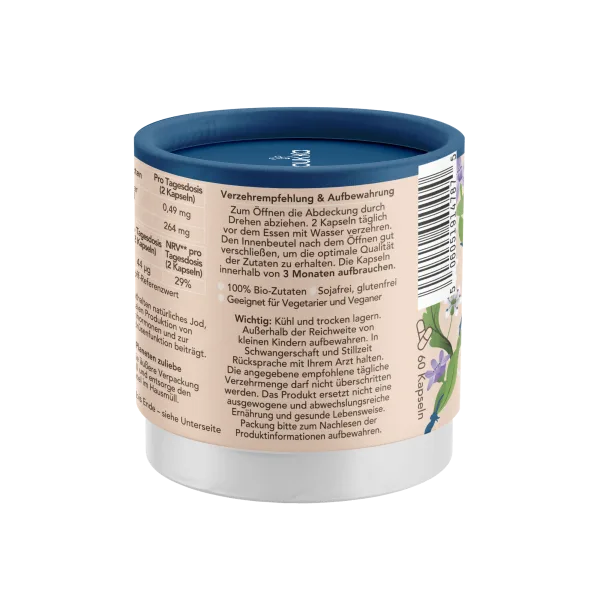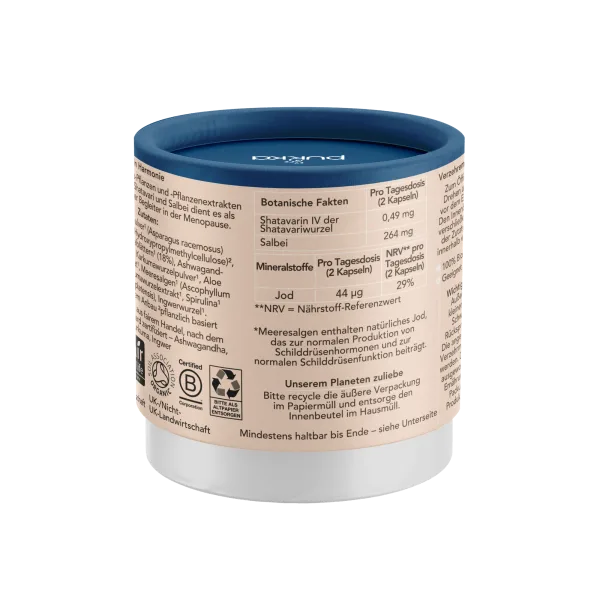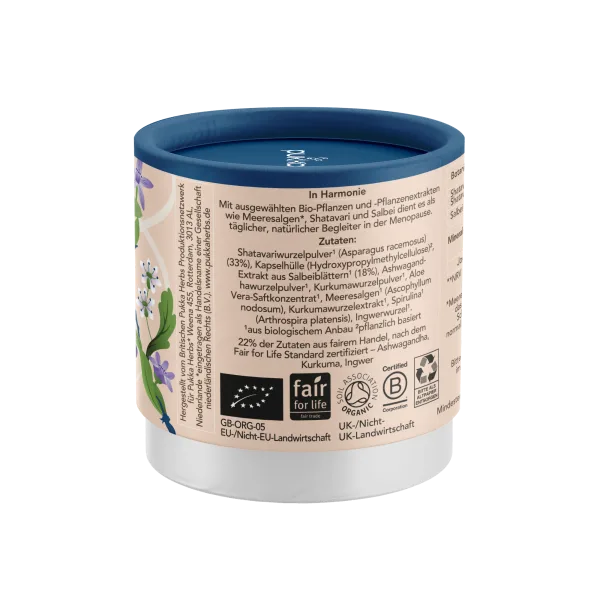 Frauenglück Meno, organic
Frauenglück Meno for a natural hormonal balance, for serenity, calm and energy in the menopause.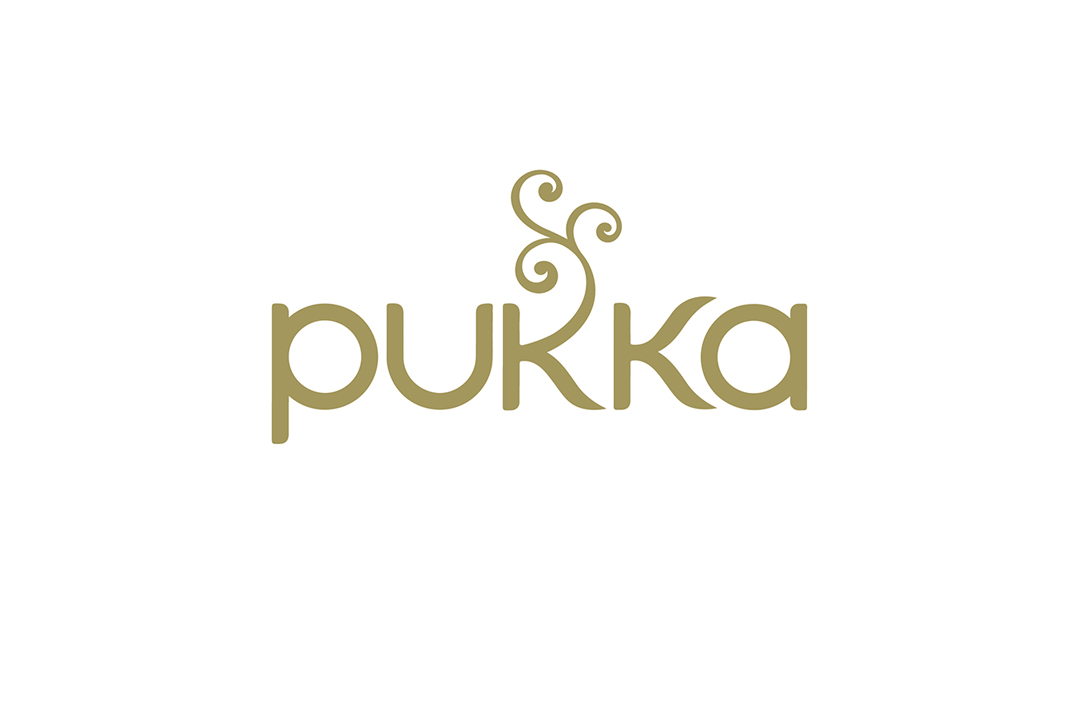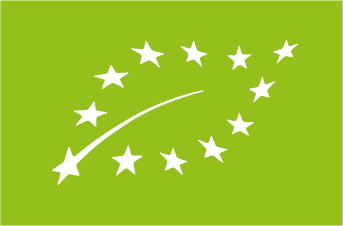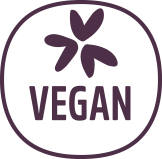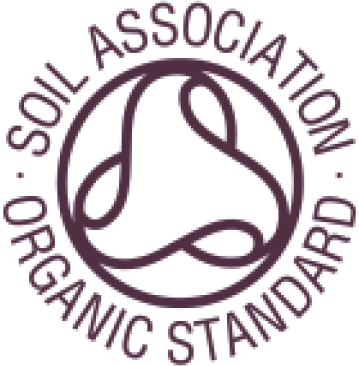 €24.95*
%
€25.95*
(3.85% saved)
Available, delivery time: 1-3 days
Product information "Frauenglück Meno, organic"
The food supplement Women's Happiness Meno by Pukka is a herbal blend of shatavari, sage, turmeric, ashwagandha, seaweed and others, developed for women over 45 and women in menopause.

Shatavari symbolises love and care and has always been a plant used in Ayurveda for the well-being of women in all life cycles. It strengthens the kapha dosha and thus dampens the heated qualities of vata and pitta. Shatavari is known to alleviate sweating and hot flushes, to be helpful in sleep disorders and digestive problems, and to have a calming and pain-relieving effect.

Sage is a medicinal plant with many uses, as its ingredients are antiviral, antibacterial and anti-inflammatory. Sage is credited with reducing increased perspiration and providing relief from digestive problems.

Turmeric has been known for generations in Ayurvedic medicine, among others, not only for its anti-inflammatory effect, but also for its healing influence on rheumatism and arthritis. The plant substance has an antimicrobial effect and helps the immune system.

Ashwagandha is used in Ayurveda to enhance performance, increase inner calm and concentration and promote a good night's sleep.

Seaweed absorbs many minerals from seawater and is therefore rich in magnesium, calcium, iron, zinc and also iodine.

The food supplement Frauenglück Meno, composed of organic plants and plant extracts, promotes serenity, balance and energy during menopause. The plant-based vitamin B6 supports hormonal balance, vitamin D supports bone structure.

22% of ingredients from fair trade, certified according to the Fair for Life Standard.
Produktvorteile:
✔ Rohstoffe aus kontrolliert biologischem Anbau
✔ Fair for Life
✔ Vegan
✔ Laktosefrei
✔ Glutenfrei
✔ Sojafrei
✔ Vegetarisch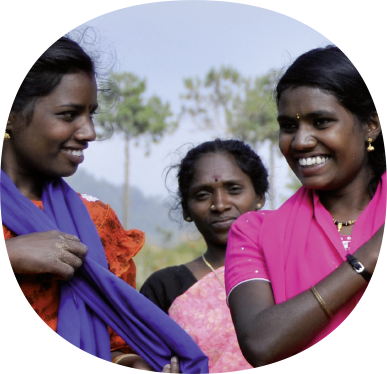 ihr kauf macht es möglich
Mit Ihrem Kauf unterstützen Sie die Hilfsprojekte der NGO Embracing the World
Take 2 capsules per day before meals with water. Close the inner bag well after opening to preserve the optimal quality of the ingredients.
Shatavari root powder* (Asparagus racemosus) (33%), capsule shell (hydroxypropylmethylcellulose)**, sage leaf extract* (18%), ashwagandha root powder*, turmeric root powder*, aloe vera juice concentrate*, seaweed* (Ascophyllum nodosum), turmeric root extract*, spirulina* (Arthrospira platensis), ginger root*; *organically grown, **plant-based. (Country of origin: EU/non-EU agriculture // UK/non-UK agriculture, certified by GB-ORG-05)
Store in a cool and dry place. Keep out of reach of small children. In case of pregnancy, seek medical advice. Do not exceed the stated daily intake. The product does not replace a balanced, varied diet.